My first thought is that many will think it is too early to be thinking about this. I have some sympathy for that view – we are very much still in the middle of the first wave of this pandemic. But it has rapidly turned from an acute emergency situation into a chronic, long term change to our reality which means that there are some very important things that we need to be thinking about now, even if we are still uncertain when the lockdowns will be lifted and some sort of normality returns (if indeed the old normal is what we want to go back to).
First of all, the NHS, local government and public health & social care systems have made heroic efforts despite several things being stacked against them. PPE issues, staff sickness, a lack of transparency and openness towards data and modelling from some, testing and contact tracing issues…to name but a few. And now we are at the stage where in some corners the knives are being sharpened and some are looking for people blame in the autopsy of a pandemic situation that is still very much still alive. There will be a time for inquiry no doubt, but this is surely not it.
From where I sit, it is pretty hard to argue against the need to properly recognise the absolutely crucial nature of workers in each of the organisations above. However, it is my hope that we emerge from this with a renewed appreciation for our nurses, social care workers and care home staff that is manifest not only in proper pay and conditions but also the esteem in which society holds these professions. In wartime, the public and politicians rally behind our troops and we all get behind them and recognise their sacrifice and bravery. But all too often, when peacetime starts, we see veterans left homeless on the street and all that support is forgotten.  We must not make those same mistakes with our nurses and social care workers and just go back to the "normal" of seeing these professions as low-skilled and rewarding them with low pay and low status. It would be unforgivable to do so. They do the heroic every day, and we should recognise they were doing it before we were in this pandemic.
Speaking as someone who has been trying to balance the demands of work and parenting and helping my parents who are isolating, working at home with a 4yr old and a 6 month old in the house, I also think we need to expand on the provision of flexible working arrangements for working parents and carers…..
I think that the tightly restrictive and frankly stupid aspects of information governance that have been in place since public health moved into local government need to be urgently put in the bin, doused with lighter fluid and set ablaze. There is enough of a fog of war in these situations without also tying one hand behind our backs when it comes to data. Public health work with individuals and communities all the way up to populations. Giving local authorities access to individual patient-level data is both essential and common sense. Without the local infrastructure that the HPA used to provide, there has instead been a flow of emails and data marked "please don't circulate" which contain an incomplete picture of the information analysts need to do their jobs.
I would like SAGE to be subject to the same degree of transparency and scrutiny as NICE. SAGE should publish methods manuals and be required to release their modelling for peer review, so we avoid the danger of limited scrutiny and are able to guard against groupthink. As with just about any emergency, pandemics manifest themselves differently at local levels – as we are now seeing in the UK where we are experiencing a what amounts to a group of regional outbreaks rather than a homogeneous national crisis. On that basis, national models must release their assumptions and workings so that local teams can place these models into local context, train them with surveillance data, and make them meaningful for local planning purposes. We've had an absurd situation whereby transparency only began to happen by the time that models were all wrong and, despite what George Box might have said, they were no longer useful. We need to ensure this doesn't happen again. I think we need to revisit plans for local "office for data analytics" arrangements so that the informal modelling/data/policy cells that have cropped up in the last few weeks (which have been massively useful networks) don't disappear and are instead made more permanent. Imagine what they could do if they were properly resourced and given the keys to the data they need? It hasn't just been in analytics – there has been a real step-up in partnership working across the board and we need to make sure that these relationships persist.
Thinking about the economy – the scale of impact is still to be fully realised. There have been some radical ideas proposed which probably need to be tempered with a bit of reflection and careful thought. George Monbiot tweeted that we should just not bail out the airline and oil industries and let them fail, since that would mean rapid progress on the climate emergency. I think that's reactionary folly. Creating mass unemployment in two sectors that employ millions of people globally would just be a public health crisis of a different kind, and our global relief efforts will need both fuel and air transportation to support their logistics. Longer term there is an argument to be made that those working in these sectors could be given opportunity to retrain with the support of universal basic income, for example. Plus, if air travel is gone, we would wipe out the tourism industry on a global scale, removing one of the economic pillars of many nations and removing funding streams for conservation efforts. I just think we need to be more measured.
Thinking more locally, Sheffield had already begun work in earnest thinking about the challenge of inclusive economy and the interplay between economic growth and health from a systems perspective as part of the SIPHER consortium. COVID-19 hasn't rewritten the script here, and I suspect that most of the issues and barriers relating to inclusive economy/health & economy still exist, it's just that they have been placed into much sharper releif. Of particular concern has to be that although jobs growth in recent years has been disproportionately focussed on the most deprived deciles of deprivation, this has also been skewed towards lower paid and/or gig economy type work. The result has been the creation of a "precariat" (I've pinched that from my colleague Laurie Brennan) that have very low resilience to this kind of emergency. It's also likely that some of those workers will now be isolating and providing care for their elderly parents, which has no doubt helped the social care system in recent weeks but is probably not sustainable in the long term.
I think the local economy needs to think in similar terms to how health are thinking about vulnerable/shielding. We need to take an inventory of the local economy and think about how we protect those small businesses which are most vulnerable, and also those large scale businesses and anchor institutions that are the engines driving the flows of money, people and goods. Again there may be some impacts of this crisis we want to see maintained when we are on the other side of it. I've seen more shopping at my local bakery and butchers shops happening as people try to avoid the queues and crowds in the supermarkets. If there is a resurgence of the high-street, with the benefits of reduced food miles and sustainable, higher welfare production then we should embrace that and it's associated benefits – I've seen more people cycling to the shops since the roads have quietened.
Economic recovery plans are probably going to need more devolution of powers, since the regional variations in impact are likely to be as heterogeneous as the regional variations in the epidemic itself. The Centre for Progressive Policy have shown this in stark relief looking at the likely scale of economic contraction in Q2.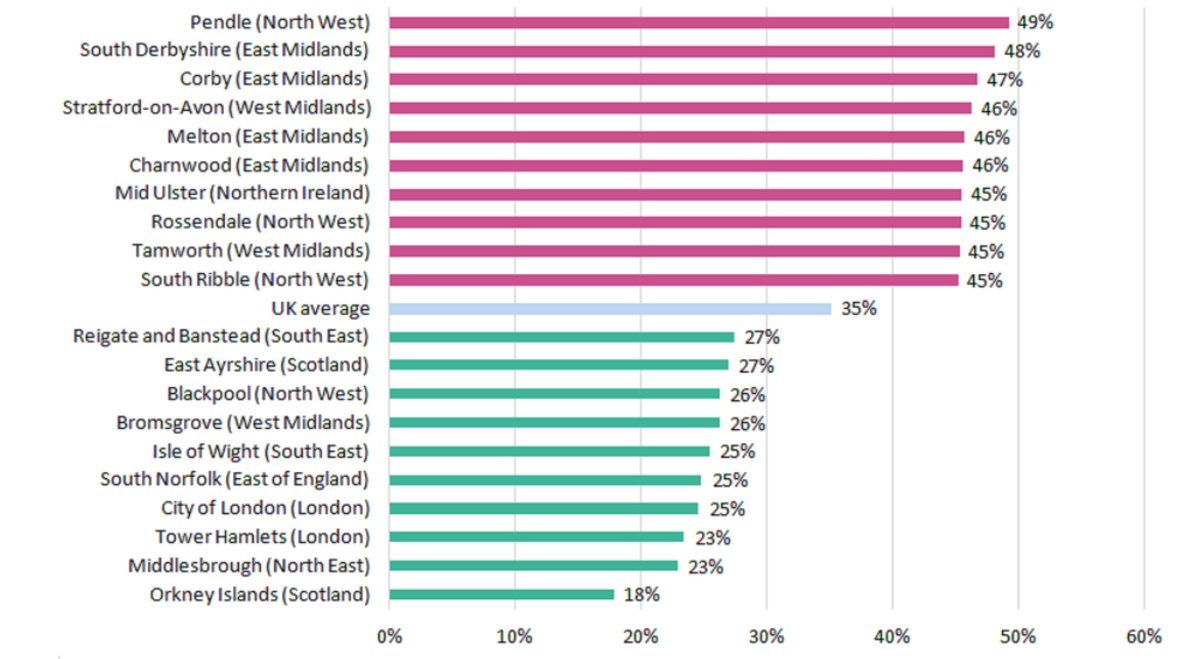 There has been a huge focus on deaths data in recent days. There is an expectation that recording a cause of death is somehow a simple process, but it isn't. Like so much data on COVID-19 the truth is it is complex. Expecting a single neat cause of death (COVID-19) in a 70yr old person with three long-term conditions is as Ben Goldacre recently put it, like "…asking for a single simple cause of love". I think a lot of this focus on death, unsurprisingly, comes from a place of fear and the spotlight has once again been shined on an issue that we as a society have not done a great job of coming to terms with.   Maybe that is why we don't appreciate social care in the way we ought to – it's something which mostly happens in those final months we don't like to think about and try to pretend aren't on the cards for us all. Thinking about a revaluing and re-esteeming of social care requires that we confront the realities and practicalities of  death and end of life care more openly and frankly as a society. The isolation from my own parents who are in their mid 70's has been hard. They want to see their young grandchildren and we all want them to be able to live their lives to the fullest, remain fit and active, and live their remaining years doing what matters to them. We've begun to have those conversations in a way we didn't before COVID-19, so that when we are out of this we can better understand how to help them live the life they want to have and (although it's hopefully many years away yet), the kind of death they want to have too.
As COVID-19 looks set to be a chronic long term challenge as opposed to a short-term emergency, we will need to think carefully about all of the non-COVID health and social care issues that have been in the near term displaced and probably in the long term worsened by the impact of the pandemic. Mental health, alcohol and substance misuse, cardiovascular disease and obesity, frailty acquired through isolation, actual social isolation, vaccinations and immunisations work, cancer care….the list is enormous. Rapid health needs assessments will help prioritise and identify the gaps and risks, and systems thinking will be required to develop workable new models of provision in each of these areas. If we don't get that right then the burden of morbidity and mortality from non-COVID factors could overtake the direct impact of the pathogen itself.
From the perspective of the Joint Health and Wellbeing strategy, as with the SIPHER and inclusive economy work it is unlikely that the key domains of that strategy will change – but COVID-19 will serve to magnify and worsen those inequalities already in place prior to the pandemic. Early years education for example (HT to Dan Spicer for this one) – those most in need of continued provision are less likely to be able to access the online resources that are available to enable home schooling.
I'm also concerned that community organisations, many of which are vital for social connections and preventing lonliness (faith groups, social clubs, community hubs, sports clubs & gyms), have faced hardship and difficulty in remaining connected with their members. Those fortunate enough to have the technology, knowledge and connectivity infrastructure have faired better, but many members are older, less tech savvy, or simply cannot afford to keep in touch with groups that are in many cases their major social contact. We need to recognise the importance of these kinds of relationships, and others, which have been vital parts of peoples coping strategies during the outbreak. How do we build on these relationships in the future?